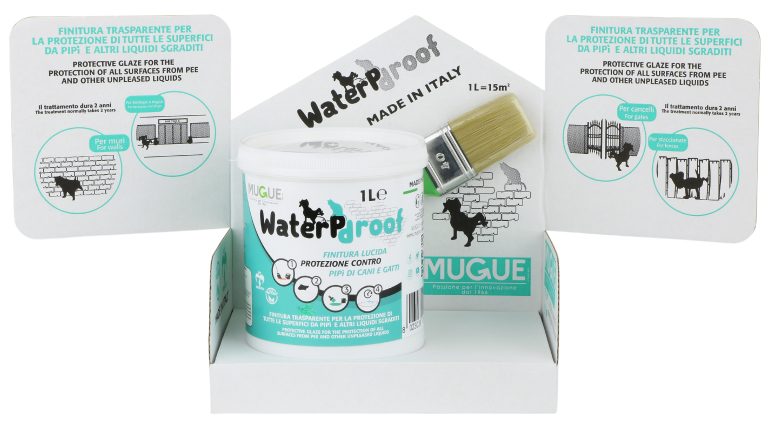 Protective glaze for the protection of all surfaces from dog and cat urine
---
WaterPProof is the protective glaze for the protection of all porous and compact surfaces.
WaterPProof works by repelling pee, water and dirt particles. The self-cleaning effect of the product is obtained with the use of nanotechnologies.
The treatment does not change and does not alter the breathability of the treated surfaces.
The treatment normally takes 2 years.
WaterPProof is not walkable.
WaterPProof is sold in a little house shape display, including the brush specially designed for the correct application.

Use on stone, cement, walls in general etc.
Before applying WaterPProof it is preferable to spray StoPP and let it act for a few hours.
1.  Rins abundantly the surface that you want to treat
2. Soak up the surface that you want to treat
4. Apply a coat of paint
5. Allow to dry
Two coats of WaterPProof are required on the porous surface. Then, it is recommended to spray StoPP to make the treated surface unpleasant to animals.
Use on wood
WaterPProof is ideal for outdoor wooden objects. Clean the surface thoroughly and allow to dry, removing any wax or resins. Sand with 120-180 grit paper.
Apply at least 2 uniformly coats of WaterPProof, waiting for 24 hours time before applying the second layer.
1 Liter = treatment on 15 m2.
WaterPProof is part of Mugue's PP line, a series of Pet friendly and Made in Italy product also UNIQUE, INNOVATIVE and PATENTED that help pets owners to solve, in a few seconds, some problems related to pee and other unwelcome liquids at home and away from home.
It is a Mugue product. Made in Italy.
box 2 pcs, gross weight kg 2,1
Related products