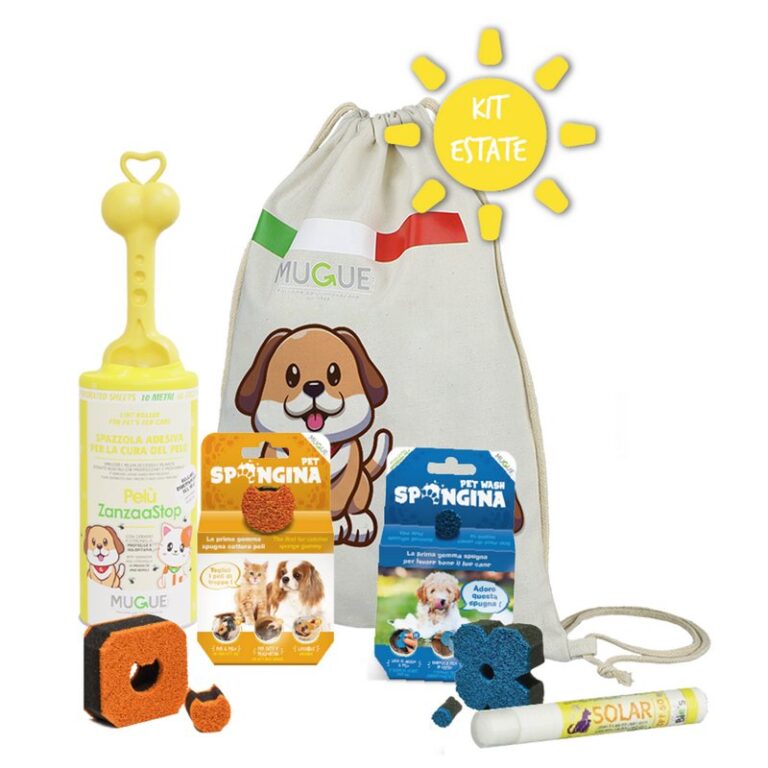 With the SUMMER kit for your 4-legged friends, leave for the holidays! All that can be useful in everyday life with your DOG and/or CAT
---
Inside the organic cotton backpack are the Mugue products necessary for a 4-legged summer! A selection of our products best suited to the summer needs of the dog/ cat and owner, for a top summer!
1 Spongina Pet Wash: innovative sponge that reduces the amount of soap to be used during the bath, polishes the hair and has a massaging action for the dog;
1 Spongina Pet: innovative sponge to be used dry on the dog and cat's coat to remove already detached fur and fabrics. Washable, reusable many times;
1 Solar: protective cream for the most sensitive parts of the dog and cat, the only one specifically for them SPF 50;
1 Pelù ZanzaaStop: patented lint roller to be passed directly on the dog and cat's coat to remove the already detached fur, while releasing a mix of naturally mosquito repellent plant extracts.
It is also perfect for removing "hairy" traces on the owner's clothing and fabrics, releasing repellent properties for mosquitoes.
It is a Mugue product. Made in Italy.
It contain patented products.
1 cotton backpack consisting of 1 pc Pelù Zanzaastop; 1 pc Solar; 1 pc Spongina Pet; 1 pc Spongina Pet Wash
Related products