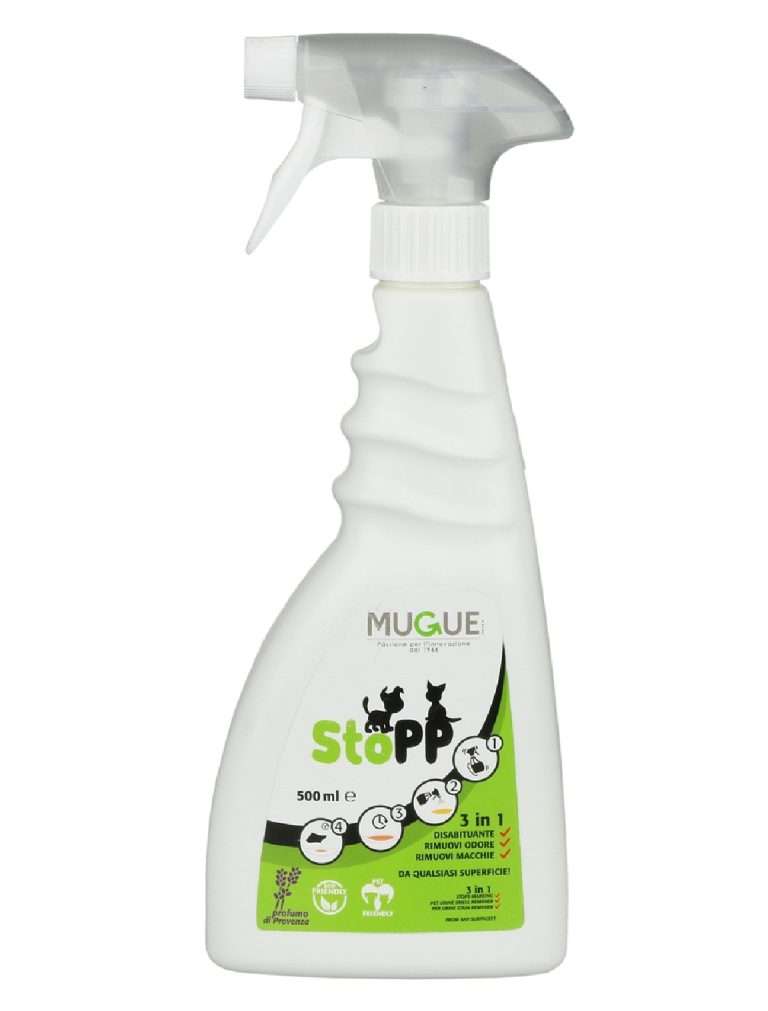 3 in 1 spray: dog and cat detterent, removes stains and removes smell of urine
---
StoPP is the 3 in 1 spray! Thanks to its natural bacterial cultures it: 1. helps discourage marking 2. removes both old and fresh urine stains 3. removes dogs and cats urine odours StoPP works on any surface (hard floors, carpets, fabrics, footwear etc.) Delicately scented with lavender.
1. Soak up the urine stain 2. Shake the product before use 3. Spray StoPP abundantly onto the surface 4.
Use on hard surfaces:
leave it to act without rinse, then wipe off with paper towels or a cotton cloth the excess fluid.
Use on soft surfaces:
leave it to act with a wet towel for at least 24 hours in order to avoid rapid evaporation. Repeat if necessary.
StoPP is part of Mugue's PP line, a series of Pet friendly and Made in Italy product also UNIQUE, INNOVATIVE and PATENTED that help pets owners to solve, in a few seconds, some problems related to pee and other unwelcome liquids at home and away from home.
Contains a mixture of selected non-pathogenic microorganism in aqueous solution, parfum, essential oil.
It is a Mugue product. Made in Italy.
box 6 pcs, gross weight kg 3,9
Related products