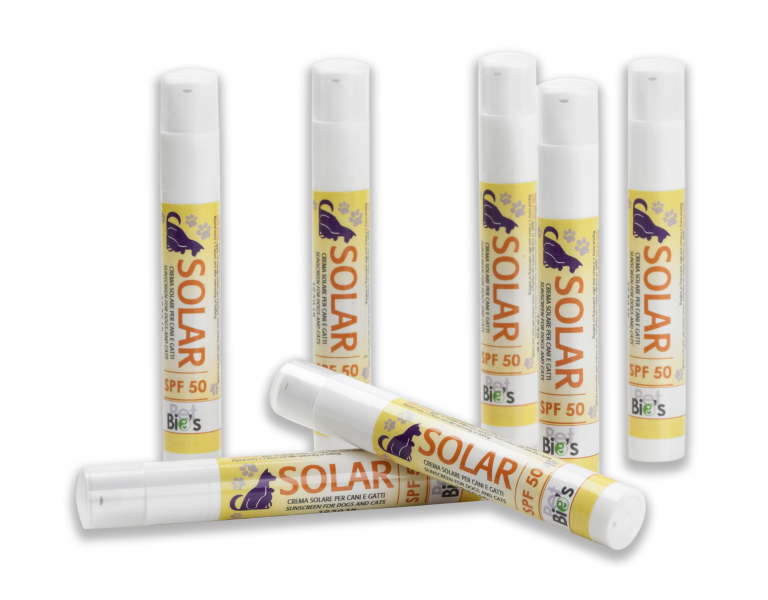 SOLAR is the one and only sunscreen SPF 50 for dogs and cats!
---
Pets need protection from the UV rays
Just like people, pets need protection from the sun.
The protection is required in particular for:
light-colored or short-haired dogs (subject to a particular type of dermatitis that causes redness and desquamation) and for dogs that have light-colored noses;
white or light-colored cats, cats with white ears, noses or bald cats, particularly prone to sunburn, dermatitis of auricles or skin cancer.
SOLAR is the sunscreen SPF 50 that conditions and protects skin and coat from UV rays
Especially for ears, nose, paws, pink skin areas.
Without parabens and preservatives, SOLAR was developed especially for dogs and cats.
Especially for our four-legged friends
Non-greasy formula, it dries quickly.
With the light vanilla scent your four-legged friend will smell good!
Approved by vets and proudly made in Italy.

Apply 10 minutes before sun exposure (outdoor activity during the summertime, walk in the park or out on the beach). Avoid contact with eyes and mouth.
Repeat every 2-3 hours and after swimming or bathing.
The use of SOLAR should not be used to allow your pet to remain in the sun for longer.
Contents per airless tube
display 10 pcs, gross weight kg 0,28
Related products