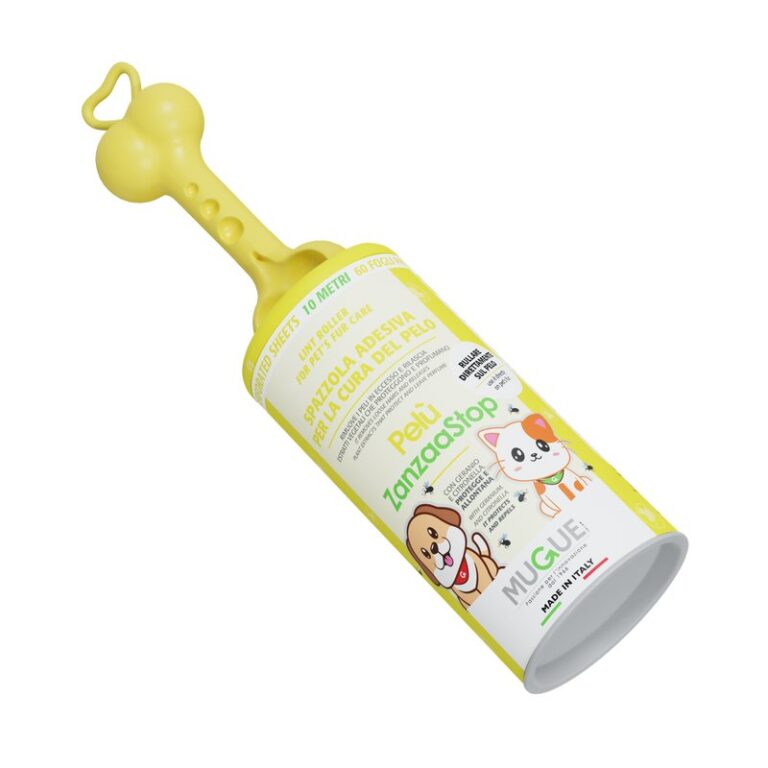 Lint roller for pet's fur care, ideal for the summer season
---
Direct application on pet's coat, sofas, couches, beds, garments, seats, prams, push chairs and more.
It removes loose hairs and releases plant extracts that protect and leave perfume.
Specially designed for our four-legged friends…and for us.
Used on pet's fur, it takes off loose hairs, cleans and shines pet's hair.
Distributes a smell pleasant mixture of plant extracts known for their protective action during summer.
Useful also for garments and textiles.
Practical shock-proof and non-stick hard shell, with fragrance-saving cap.
Appealing bone shape. Ergonomic Italian Design. The grip is made out of three separate parts to ensure that the lint roller rolls as smoothly as possible and a simple replacement of the roll.
Hanging hook.
This lint roller is produced with Italian adhesive paper of the best quality, specially designed for pet's fur.
The adhesive is enriched with pure plant extracts, such as Geranium and Lemongrass.
It is perfect to be used under colder and warmer climate conditions. The dirty adhesive sheet is easily peeled off.
Length: 10 meters, more than 60 perforated adhesive sheets.
This article was created from scientific research and is guaranteed by a major Italian University.
Designed, patented and manufactured in Italy by Mugue.
European Patent # 2249637 ; US Patent # 8,608,860.
display 16 pcs, gross weight kg 2,8
box 24 pcs, gross weight kg 3,9
box 12 pcs, gross weight kg 2,1
Related products