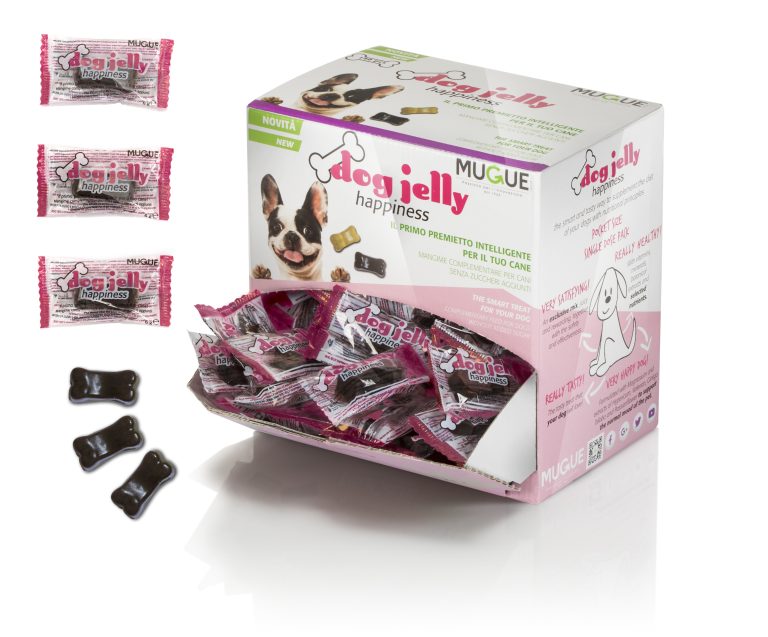 The first smart treat for your dog with a chewy texture
---
Dog Jelly is the new, smart and tasty way, to supplement the diet of your dogs with nutritional principles like vitamins, minerals, botanical extracts and selected nutrients for specific needs: an exclusive mix, juicy and rewarding, together with the safety and effectiveness.
Without added sugar
With vitamins and minerals
Pocket size
Single dose pack
Dog Jelly Happiness: the tasty treat that your dog will love!
Formulated with Magnesium and extracts of Valerian, Ginkgo biloba and Passionflower to support the normal mood of the pet and the physiological relaxation.
The selection of raw materials is made in compliance with the veterinary regulations, according to latest updates and ultimate studies in the pharmaceutical fields , to ensure you the best quality and efficacy.
1 Dog Jelly Happiness each 5 kg of body weight per day.
Complete the daily ration with usual food. Always leave fresh water available.
Composition and analytical constituents
COMPOSITION: meat and animal derivatives, glycerol (vegetable origin), maltodextrin, Hypericum (Hypericum perforatum L.) extract 0,548%, magnesium gluconate 0,416%, vegetable oil and fats (soy phosphatidylserine).
ADDITIVES (mg/kg): Sensory additives: natural products – botanically defined: Passiflora incarnata L. extract 3.333,33, Valeriana Officinalis L. root extract 2.583,33, Ginkgo biloba L. extract 2.500 Flavouring compounds: mixture of flavouring compounds.
Technological additives: preservatives, 1c322i lecithins liquid, 1d401 sodium alginate, e551b colloidal silica.
ANALYTICAL CONSTITUENTS (%): Crude protein 27,86;Crude fiber 0,1;Crude oils and fats 1,35;Crude ash 0,87;Moisture 37,56;Magnesium 0,026.
Made in Italy with aut. n°:  αIT000424NO.
It is a Mugue product. Made in Italy.
Patented product.
single dose pack, gr 6
display 140 pcs, gross weight kg 0,9
Related products