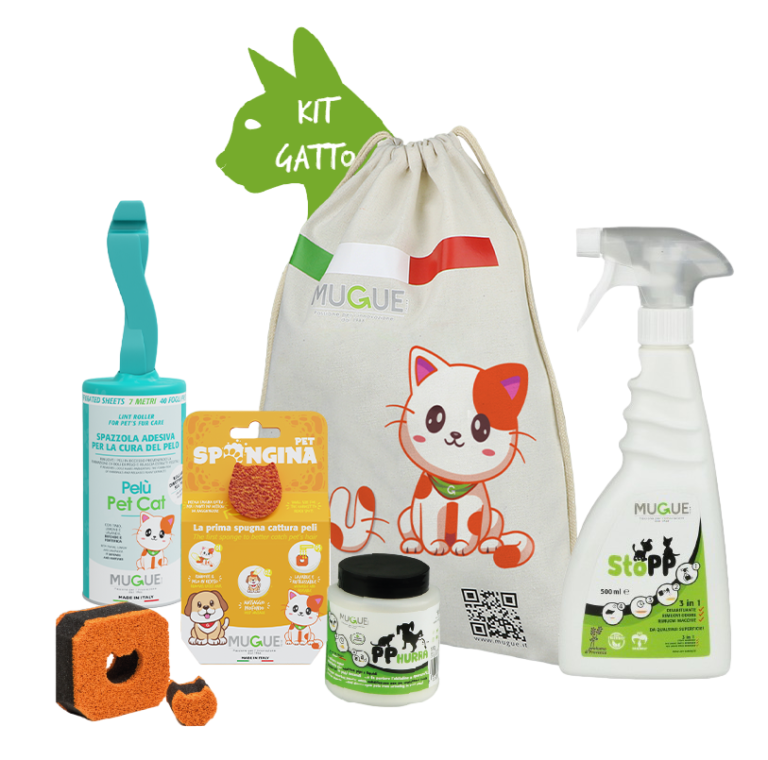 Our most popular products, everything that can be useful in everyday life with your CAT
---
Inside the organic cotton backpack you will find our best seller products, the most suitable for your and your cat's needs:
1 StoPP: 3 in 1 spray, it helps discourage marking, removes odor and removes stain;
1 Spongina Pet: innovative sponge to be used dry on the cat's coat to remove already detached fur and fabrics. Washable, reusable;
1 PPHurrà: magic powder with extreme absorbency. It solidifies pee and "liquid traces" left by the pet.
1 Pelù Pet Cat: patented lint roller that removes already detached hair, cleans and shines the coat, and distributes a mixture of plant extracts that arepleasant to smell and promote the maintenance of a healthy coat.
It is also perfect for removing "hairy" traces on the owner's clothing and fabrics.
It is a Mugue product. Made in Italy.
It contain patented products.
1 cotton backpack consisting of 1 pc Pelù Pet Cat; 1 pc Spongina Pet; 1 pc StoPP; 1 pc PP Hurrà
Related products