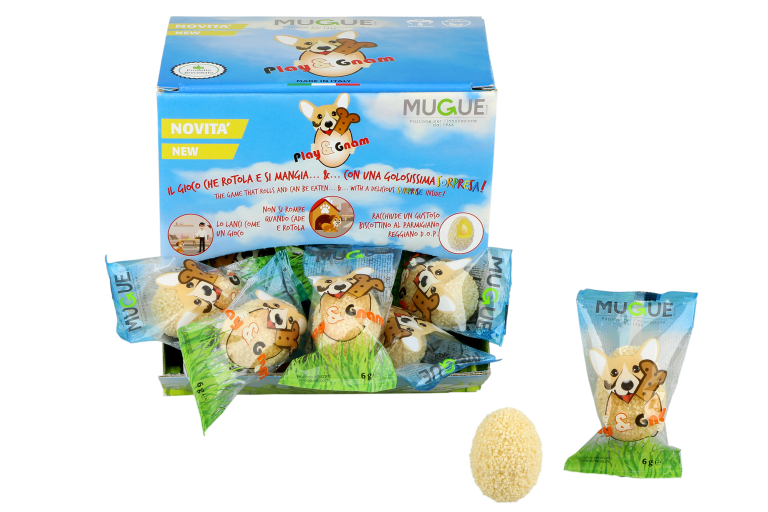 The egg that contains a SURPRISE: dogs will adore it!
---
Play&Gnam is an egg that encloses in a crispy wafer shell covered with cereals a surprise that your dogs will love: the tasty biscuit with D.O.P. Parmesan butter!
A world of fun and entertainment for our dogs, combined with the pleasure of eating a healthy, wholesome treat.
Also useful as a training reward.
Without dyes or preservatives.
Give to our four-legged friend moments of tasty fun
Throw Play&Gnam Truffle at your dog at any time of the day.
Play&Gnam is specially designed not to break on impact but only when bitten by the dog or softened by his saliva.
Play&Gnam is ready to use and can be fed to the dog without cooking or heating.
Give your dog 2-3 eggs per day as a treat or reward in the training phase.

We carefully select the ingredients we use in our products. Each ingredient has been specially selected for its quality and palatability, to ensure joyful moments for your furry friend in complete safety for the owner.
Play&Gnam is ready to use and can be fed to the dog without cooking or heating.
Supplement the daily ration with the usual food.
Always leave fresh water available.
Composition and Analytical Constituents
COMPOSITION: common wheat flour, rice flour, butter (from the production of Parmigiano Reggiano DOP), corn starch, glucose syrup, peanut oil, oat flake flour, sunflower oil, minerals, sugar, barley malt extract.
ANALYTICAL CONSTITUENTS (%): Crude protein 7,45; Crude fats 11,90; Crude fiber 0,60; Crude ash 0,41.
It is a Mugue product, 100% made in Italy.
Patented product.
display with 30 eggs, gr 300
Related products