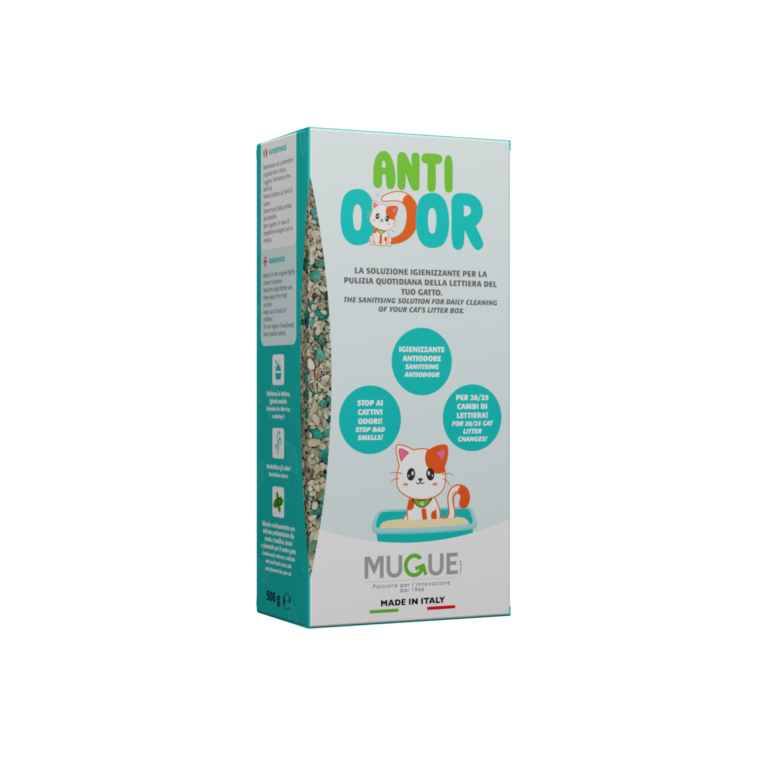 The sanitising solution for daily cleaning of cat's litter box
---
Anti Odor is the sanitising solution for daily cleaning of cat's litter box*.
Refreshes the litter box, sanitising it
Neutralises odours
Continuously releases a delicate mint and basil scent, safe and pleasant for your cat
The product is always active, its effectiveness lasts for a long time, and the benefits are appreciated for a long time.
It has no emissions, as the granule does not release active ingredients but, on the contrary, keeps the paws clean and prevents bacterial colonies from taking root in the cat's pads and nails.
The special granule formulation allows easy dispersion and ensures constant sanitisation of the entire litter. The result is a longer life span of the sand and a marked improvement in hygienic conditions in our homes.
It can be safely disposed of together with the litter after use.
Cheaper sepiolite-based bedding can also be used.
* also suitable for use in rodent or rabbit litter.
Spread ANTI ODOR evenly on the bottom of the clean tray;
Pouring the litter;
Sprinkle two tablespoons of the product on the clean bedding at each change.
With 500 g of product, you treat about 20/25 litter changes. The amount of product to be used does not depend on the number of cats using the litter.
It is a Mugue product. Made in Italy.
box 12 pcs, gross weight kg 6,2
Related products